As in the pretty stories her mum was reading her short before Christmas, (NØ) wants to go for a walk in a large forest where she would find the perfect tree, huge enough to be able to put many gifts under, to bring back in the leaving room !
But she leaves in Paris and the living room is so tiny… And there is no forest at sight… Shall she give up? Certainly not, (NØ) wants a Christmas tree in the house ! A crazy idea grown in (NØ)'s mind to build a Christmas tree FOREST…
To grow up your forest, you will need :

– Balsa wood (that you can find in Amazon, Walmart or any good craft store) from about 0,1in (2mm) thickness.
– 1 utility knife.
– 1 pen.
– 1 ruler.
– The tree templates to be downloaded and printed here.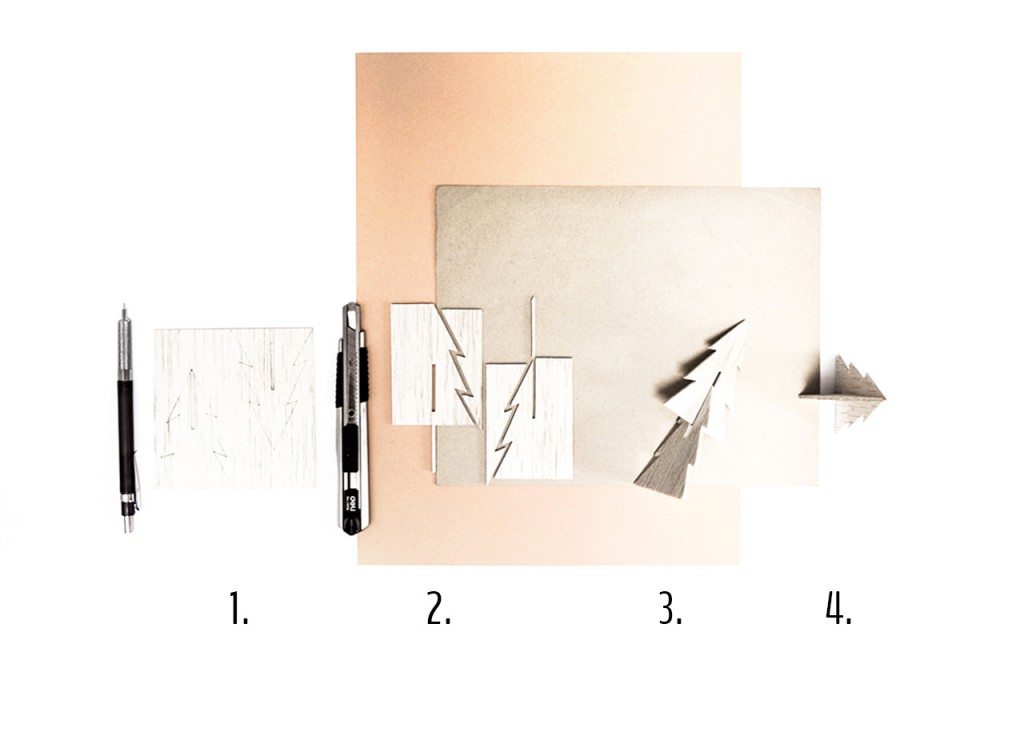 1. Print and trace the tree templates onto the balsa wood.
2. Cut out the two tree shapes using an utility knife. Do not forget to cut the notches (From the bottom to one triangle to the center mark. In the other, cut from the top to the center mark). Your notch only needs to be as wide as the thickness of your balsa wood.
3. Fit your triangles together by sliding one slot into another.
4. That's it!
To embellish your Christmas trees:

– Masking-tape or painter tape (that you can easily remove).
– Gouache, the colour of your choice (or a lot of different colours gouache).
– 1 paintbrush.
– Liquid white glue.
– Some pixie dust glitter powder.
– Rubber stamps.
– Decorative sequins or stickers, in star shape, moons, dinosaurs…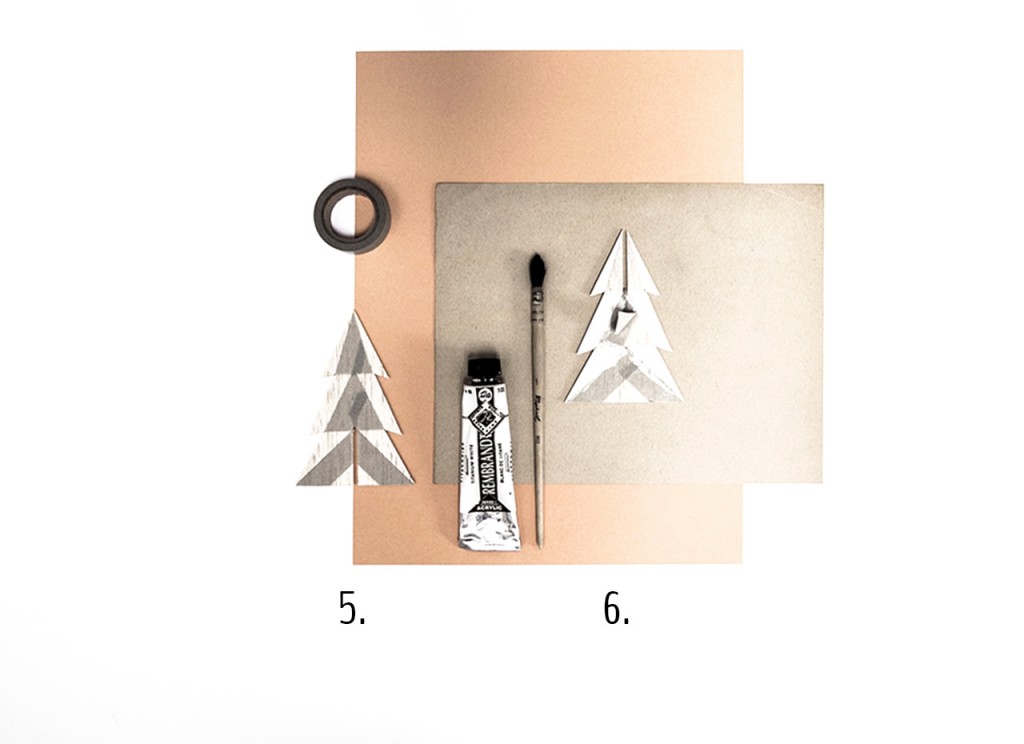 5. After step 2. Draw the pattern of your choice on the two tree pieces, both sides. Stick some masking-tape in the areas where you do not want any painting.
6. Paint the free areas and remove tape before the paint completely dry.
7. Continue with step 3 and 4. Fit your triangles together by sliding one slot into another. TA-DA!
To make your Christmas tree twinkle brilliantly, simply replace watercolor by liquid white glue, then sprinkle some glitter powder, remove the masking-tape, tap of the excess. And let it shine !
To add a short message on your tree, use rubber stamps dipped in the gouache or any "all-supports" ink.
To complete your embellishment, stick a little moon or star at the top of the tree and that's it !
A short walk in the forest…
Let's get closer to see some decorative ideas :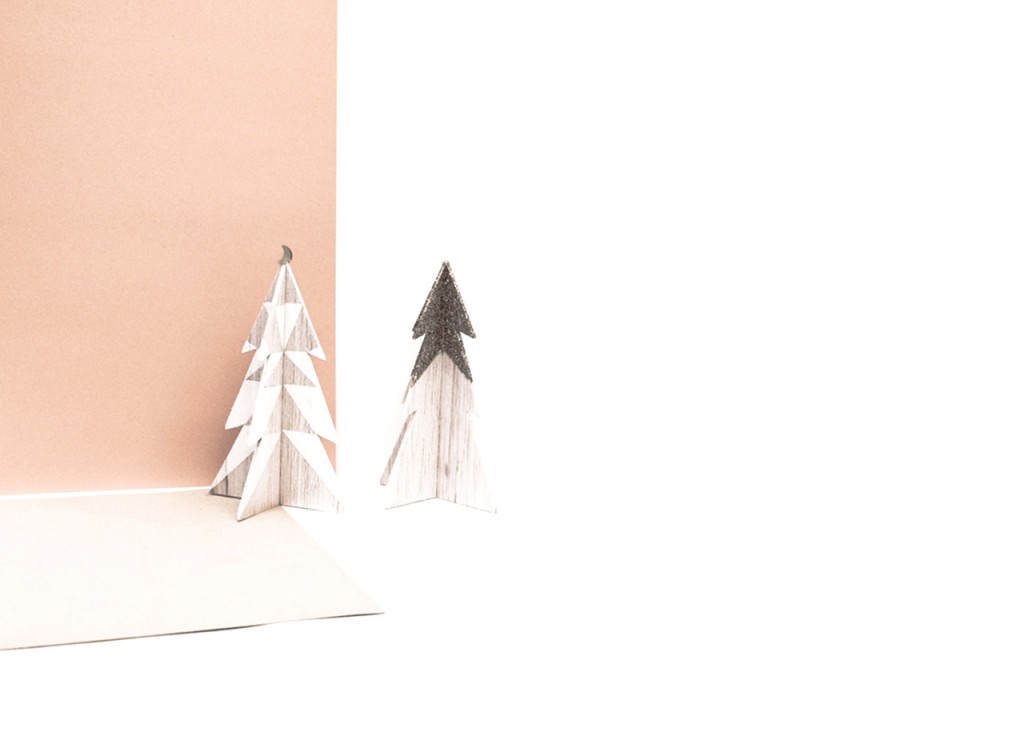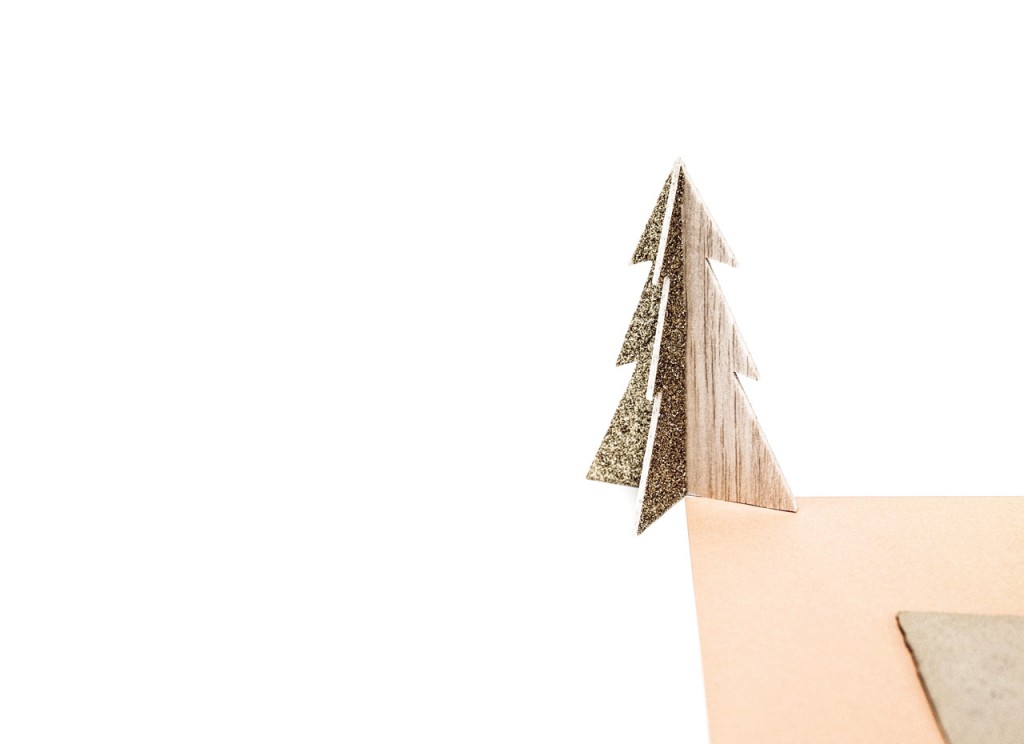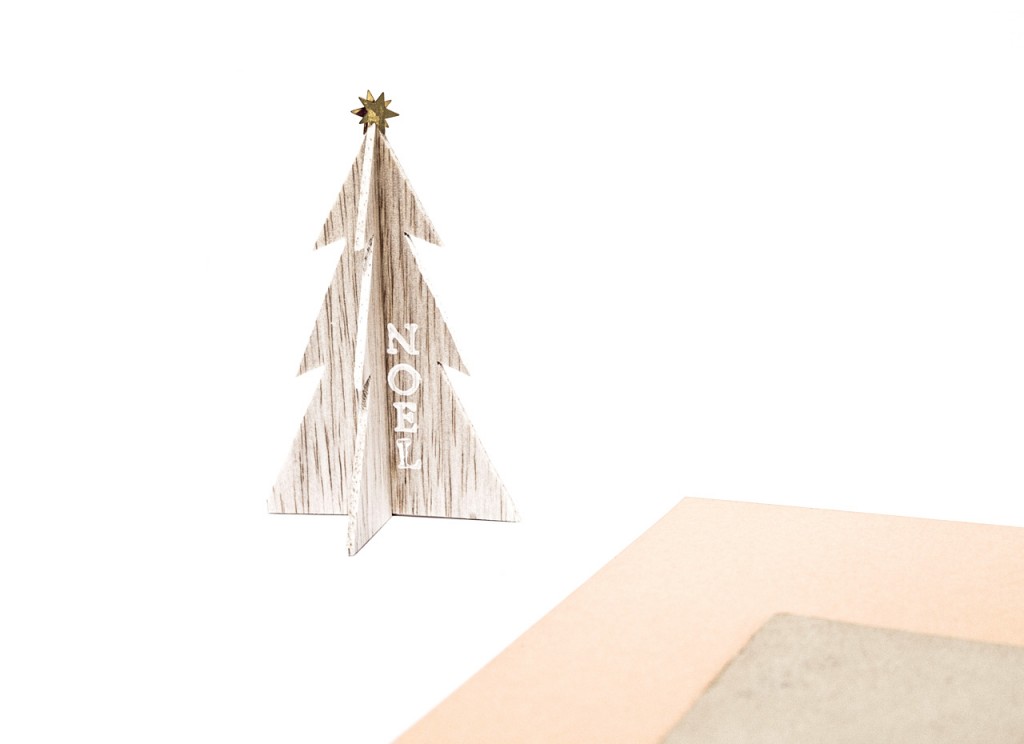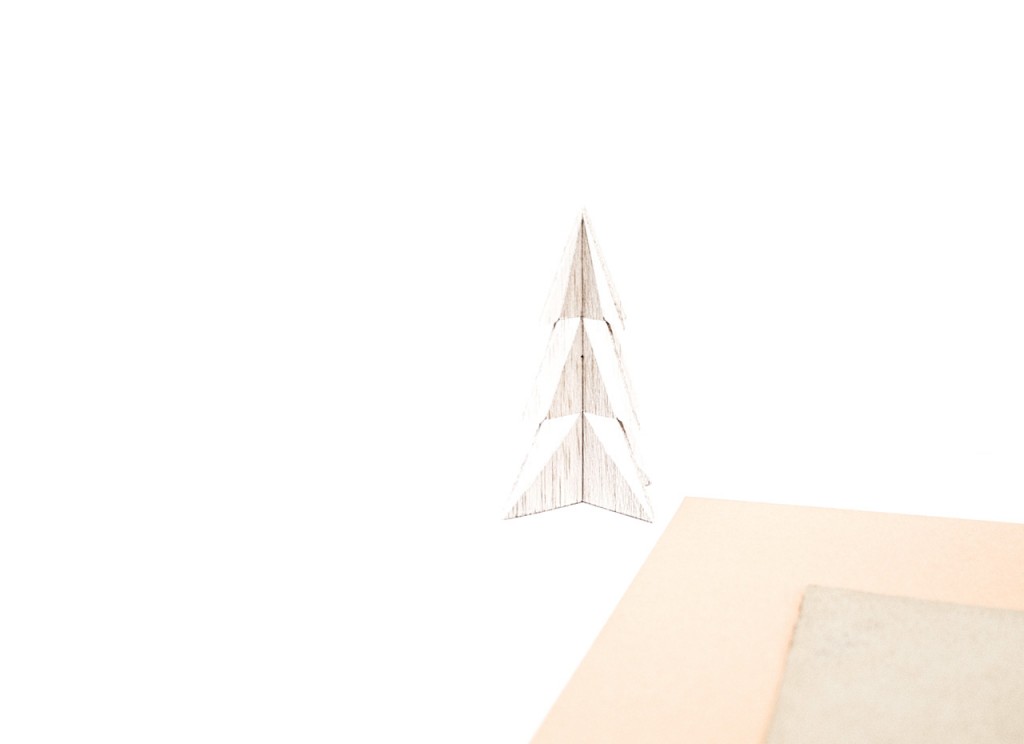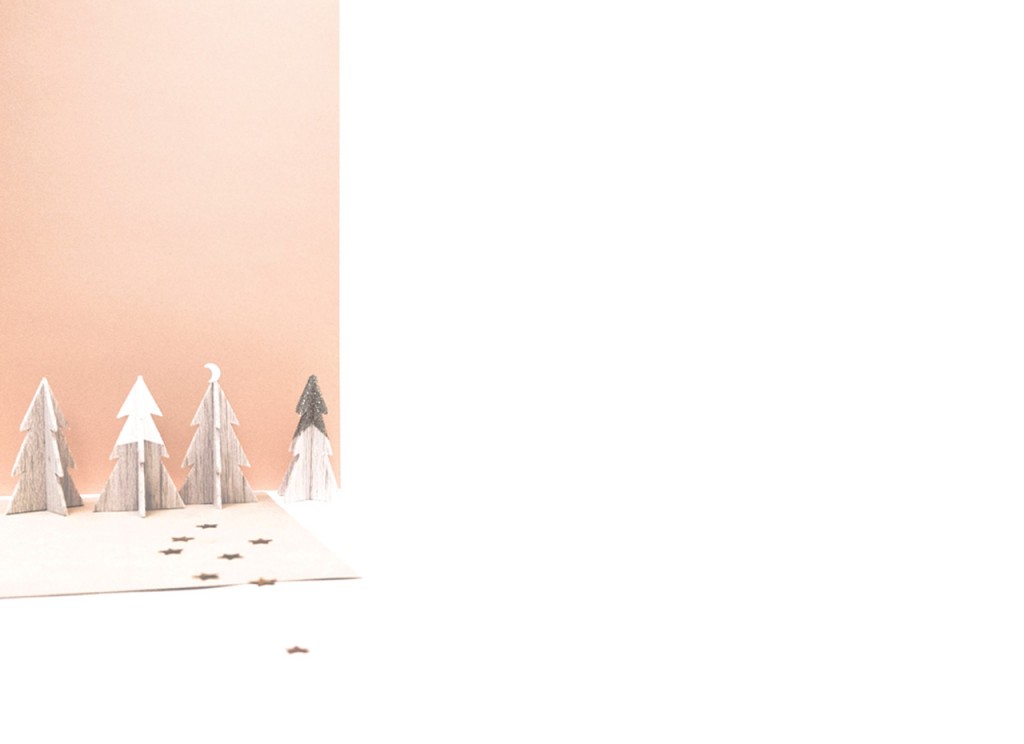 A walk in the forest ? No, a walk OF the forest !! Placed in a pretty wood tray, it's not anymore (NØ) going for a walk in the forest, it is the forest who is going for a tour, in the house !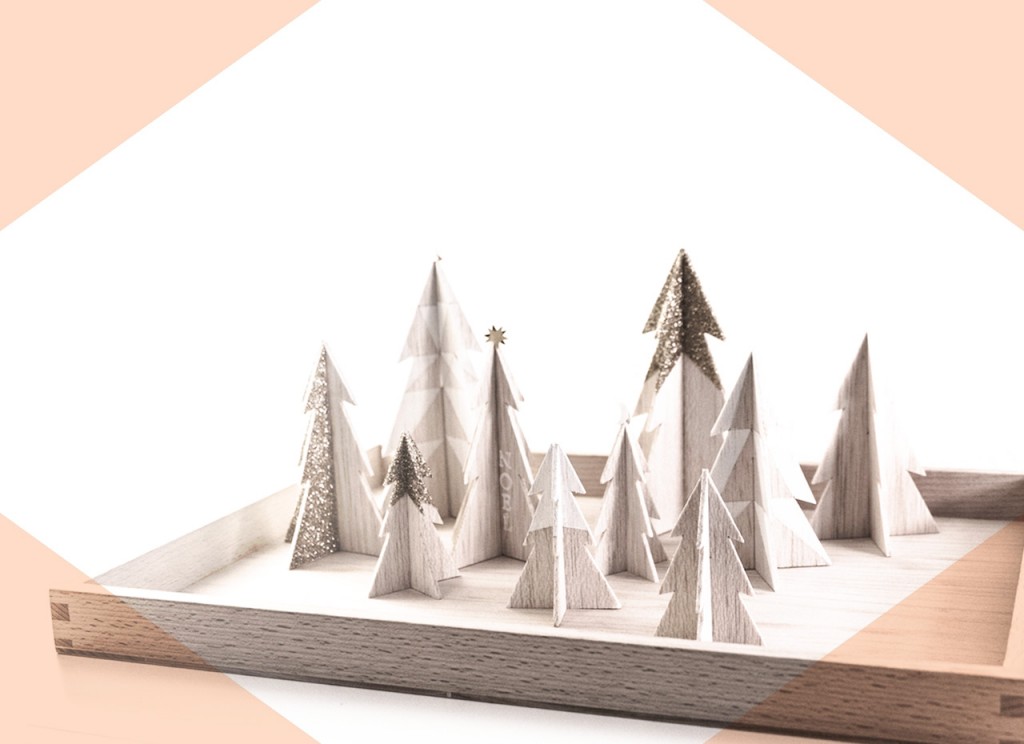 (NØ) wishes you a nice walk ! (And best of it, those trees don't loose their spines!!!)